Cash-strapped Bristol City Council to borrow £50m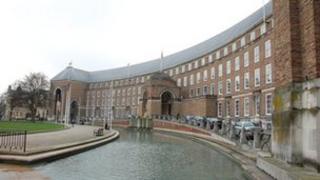 A council which is currently looking to save 7% of its budget is to borrow £50m over three years to spend on new projects, the BBC understands.
Liberal Democrat-controlled Bristol City Council says its Investing in Bristol Future Fund will go towards school and transport projects.
It plans to spend £20m on creating school places and £10m towards two "rapid transit" bus schemes.
A new £6m swimming pool in Speedwell is also planned.
The authority said it would borrow the money from the government's Public Works Loan Board.
'Borrowing sensibly'
Councillor Barbara Janke, council leader, said necessary provision had to be made now to meet the "challenges of being a successful city with a rising population".
"We've been successful over the last year in attracting Government and European funding but we cannot rely on external funding alone," she said.
"We will raise this extra capital by borrowing sensibly at historically low interest and fund the repayments through savings in our revenue budget - £1.5m this year."
The package of spending will include:
£20m for school places in the city
£10m for the three Bus Rapid Transit projects (on top of the £5m already pledged)
£6m for other urgent transport projects
£5.5m towards Elderly Extra Care Housing
£0.5m to help the elderly live independently
£6m for a new Bristol East swimming pool
£2m for the Hartcliffe Way recycling centre
Bristol City Council cut £28m from its budget last year and plans to cut another £21m in the next year.
Councillors will vote on the proposals at the end of February.