Cathedral and council bid to evict Occupy Bristol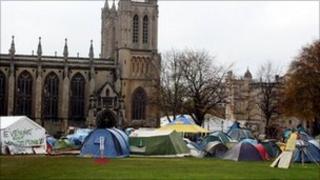 Occupy Bristol protesters have been told legal action has begun to evict them from their protest camp.
The campaigners have been on College Green - owned by Bristol Cathedral - since 15 October 2011 and have built temporary shelters there.
The protesters are part of an international anti-poverty movement calling for a fairer society.
They have now been told by the cathedral that legal action has begun to move them from their camp.
A joint statement from Bristol Cathedral and Bristol City Council said the cathedral's Dean, the Very Reverend David Hoyle, had met a number of people currently occupying the site and issued a final plea to them to clear it.
Dr Hoyle said: "Whilst we are committed to listening to the Occupy Movement, we believe it is now time that this stage in their protest came to an end so that a wider community can once again benefit from access to College Green."
'Environmental eyesore'
He said he wanted the green to be restored as an open public space and asked for the protesters to move peacefully.
Tony Cripps, who said he was a spokesman for the Occupy Bristol group, said the news was expected and said they would be taking legal advice themselves.
"We are here as part of a global movement - this isn't just about College Green - we are here to do a specific job, or set of jobs.
"We are not going tomorrow, we are not going next week, this may take several months. We've got plenty of time to think about things."
He added that an announcement would be made on 16 January about moving Occupy Bristol on to a second phase.
Barbara Janke, leader of the Liberal Democrat-led city council, said: "After two-and-a-half months of occupation, the camp is less a symbol of widespread citizen concern about issues of social justice and more an environmental eyesore and anti-social nuisance.
"In lockstep with the cathedral authorities throughout, I again join with the dean in his plea."
College Green is owned by the cathedral but maintained by the council.