Cadbury's Somerdale plant in Keynsham sold to developer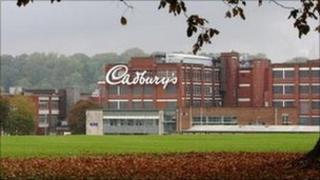 The former Cadbury factory at Keynsham in Bristol has been sold to a developer, according to the property agent handling its sale.
BNP Paribas notified Bath and North East Somerset Council last month that contracts for the Kraft Foods-owned factory would shortly be exchanged.
The developer's name has not yet been revealed.
A Kraft spokesman said the company would announce the successful developer "in due course".
He added: "We will, of course, ensure that all parties, including local residents, are kept fully up to speed when we are in a position to make an announcement."
Cadbury was taken over by Kraft in February 2010, which had pledged to keep the Somerdale plant open.
When the takeover was completed, the firm announced it would close the factory and continues with plans to switch production to Poland.
The factory closed a year ago with a loss of 600 jobs.
It is expected that the 220-acre site will be converted into 600 homes.