Driver rescued from flooded stream in Chew Stoke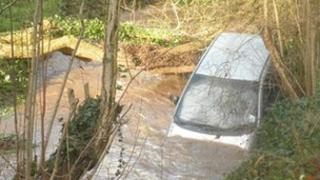 A driver has been rescued after her car was swept into a flooded stream following heavy rain.
Rescue crews believe the woman, in her 40s, was driving through a swollen ford in Chew Stoke, south of Bristol, when her car was swept away.
Two Environment Agency workers saw the incident and waded in to help after the car came to a stop against a tree.
An Avon Fire and Rescue Service spokesman said the woman was suffering from shock as she was unable to swim.
The road has been cordoned off.
Elsewhere, the Environment Agency issued a flood alert for the Bristol Frome Catchment saying that flooding was possible for the River Frome and tributaries between Chipping Sodbury and Bristol Floating Harbour.
It said low-lying land and roads would be affected first.
A spokesman for the agency said that an inch of rain fell in the Bristol area in just 24 hours.
West Somerset and Mendip were the worst affected areas in the region, where 23mm of rain fell in six hours.