Bath music shop reveals Victorian past at record office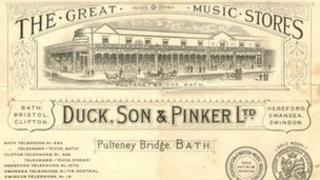 Papers revealing the history of a music shop in Bath which traded for nearly 170 years have gone on public display.
Duck, Son & Pinker shut in April and the papers and memorabilia were donated to the city's record office.
Archivist Colin Johnston, said: "The first account book shows that, as well as pianos, they sold a harp, violin strings and a barrel organ."
Apart from selling musical instruments, staff produced sheet music catalogues and carried out church organ repairs.
'Waltzes and operas'
Mr Johnston said: "The firm produced its own catalogues of sheet music, probably prior to World War I.
"There were thousands of music scores you could buy from them in a time when you sat around the piano after dinner to entertain your friends and family with polkas, waltzes and operas."
Apart from the shop's sales records, there are also photographs of the shopworkers who made the pianos in the workshop as well as newspaper advertisements.
The papers were found in the shop's cellars and basements, while the stock of music and instruments were auctioned off to private buyers earlier in the year.
"We received a call in June to take it all away on the day the store was being stripped out," Mr Johnston added.
"We managed to rescue a number of items from the basement and cellars which were dirty, damp and mouldy because they had been stored underground and near the river."
The papers have now been dried and cleaned and can be seen at the Bath Record Office.