Residents' parking plan for Cotham in Bristol examined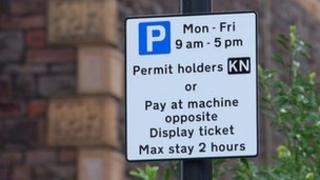 Plans for another residents' parking zone in Bristol are to go forward to the next stage of consultation.
The Liberal Democrat-controlled city council ran a survey for homes and businesses in the Cotham area asking if they wanted it introduced.
A Bristol City Council spokesman said the authority would now proceed to a statutory consultation ahead of drafting a traffic regulation order.
Zones currently operate in Kingsdown and the central area of the city.
Under the proposals for the Cotham zone each household without off-street parking can apply for up to two permits.
The first permit costs £30 per year and the second £80 but with no guarantee of a space.
"While the statutory consultation is under way residents will still have the opportunity to influence the scheme," the council spokesman said.
"If a residents' parking scheme is introduced there would be an opportunity to put forward changes after six months and we will carry out a full review after two years," he added.
Plans for a similar scheme in Cliftonwood were turned down last year after residents told the city council they did not want it.