Jo Yeates murder: Prayers on first anniversary of death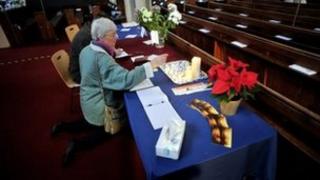 Tributes and prayers have been offered in support of the family of murdered Bristol landscape architect Jo Yeates.
Miss Yeates, 25, was killed by her neighbour Vincent Tabak in her Clifton flat. He was jailed for 20 years at his Bristol Crown Court trial.
Christ Church, near Miss Yeates's flat, opened so people could light candles and pay tribute in a card.
One book entry read: "Your beautiful daughter may be gone but Jo is not forgotten in the Clifton community."
"Our thoughts and prayers are with you at this sad time. May you know God's peace, love and comfort always."
A couple wrote: "We wanted to express our deepest sympathies to you all at this very sad time of year for you.
"We lost our own son in an accident 10 years ago. This does not equate with the awful experience you have had but we understand a little of what you have been going through.
'Loved Christmas'
"The sense of loss never goes but we hope that the pain will slowly ease for you as time passes. Our thoughts and prayers are with you."
The Reverend Paul Langham said the couple's card would be sent to Miss Yeates's parents.
"As we mark the anniversary today it is still incredibly fresh for people," the churchman said.
"I think the sense of shock that people felt last year is coming alive again as we remember, and particularly as we are in the middle of a season of joy and rejoicing.
"Yet it is a stark reminder that for one particular family, and for others, Christmas can be a great time of sadness."
The church remained open until 17:00 GMT.
Miss Yeates was last seen by colleagues at the Bristol Ram pub in Park Street, Bristol, at 20:00 GMT on 17 December.
Tabak strangled her and left her body by a roadside verge. She was discovered on Christmas Day by dog-walkers.
Her father David said in a recent interview with the BBC that the family would find Christmas difficult.
He said: "She loved Christmas - that was the best time of the year.
"She enjoyed the whole razzmatazz to do with Christmas and that's why Christmas - her being found on Christmas Day - was so poignant."