Shrien Dewani extradition decision due in new year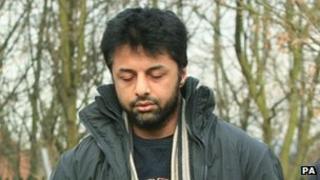 A man accused of arranging the murder of his wife in South Africa will have to wait until the new year to find out if he will be extradited.
Shrien Dewani, 31, from Bristol, is appealing against an order for his extradition to stand trial over the killing of 28-year-old Anni Dewani.
In August, a judge ruled Mr Dewani, who denies involvement in the death, could be sent to South Africa to stand trial.
A High Court spokeswoman said the judges had reserved their decision.
The spokeswoman said: "The court will now consider the papers and arguments. Judgment will be delivered in the course of the next legal term, which begins on January 11 2012."
'Too ill'
On Friday, judges Sir John Thomas and Mr Justice Ouseley were due to consider further statements from medical witnesses, who were also to be cross-examined in open court, but the hearing was called off after all sides agreed there was no need for further cross-examination.
Earlier in the week, Clare Montgomery QC, appearing for Mr Dewani, said he was "too ill to be extradited" because of post traumatic stress disorder and claimed he would be at high risk of suicide.
She said that risk would be heightened by his extradition.
In April, Mr Dewani was sectioned under the Mental Health Act to a psychiatric unit for his own protection, and in November he was sectioned again for a further six months following reports of a deterioration in his condition.
Hugo Keith QC, for the South African government, argued Mr Dewani would be offered sufficient protection and treatment on being extradited.
The ruling in August that Mr Dewani could be extradited was later backed by Home Secretary Theresa May.
Mrs Dewani was shot dead when the taxi she was travelling in with her husband was hijacked in the Gugulethu township in Cape Town, in November last year.
Mr Dewani was released unharmed but his wife's body was later found in the abandoned car.
Plea bargain
The South African authorities have accused Mr Dewani of murder, conspiracy to commit murder, robbery with aggravating circumstances and obstructing the administration of justice.
Taxi driver Zola Tongo, 31, from Bothasig, Cape Town, admitted his part in the murder and was sentenced to 18 years in jail in December 2010 after agreeing a plea bargain.
He was jailed for murder, kidnapping, robbery with aggravating circumstances and perverting the course of justice.
He told the Western Cape High Court he had been offered 15,000 rand (£1,400) by Mr Dewani to kill his wife.
Mziwamadoda Qwabe, 25, and Xolile Mngeni, 23, are also charged with murder, and kidnapping and robbery with aggravating circumstances, and are due to face trial at the Western Cape High Court next year.