Filton Airfield housing plans approved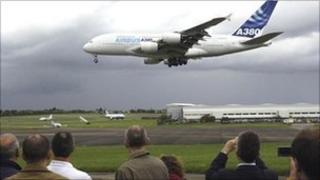 Proposals to build up to 2,500 houses on Filton Airfield in Bristol have been given the green light.
However campaigners, including a relative of the airfield's founder, have described the plan as "sheer madness".
South Gloucestershire Council approved the proposal at a meeting on Wednesday.
BAE Systems is planning to shut the airfield at the end of 2012, which will result in the loss of 19 jobs.
The council ruled two-thirds of the site should be allocated for housing and a third for businesses.
A final decision is expected to be made by a planning inspector, next April.
Councillors believed the decision would help protect the green belt from development in the future.
Councillor Brian Allinson said: "At least now what we've done is to protect the rest of South Gloucestershire from unsustained development."
Sir George White, great-grandson of the founder of the airfield, said: "I think it is absolutely extraordinary that anybody could even contemplate destroying such an extraordinary asset to this area.
"The aircraft industry has supplied a vast number of jobs over the years to this area, and that could continue but to fall for the trap of short-term return by building houses there, is sheer madness."