Transport schemes given £854m in government funding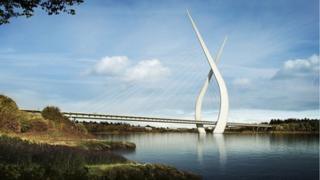 The government has announced £854m in funding for 21 transport schemes across England.
It said £82.6m would help fund a bridge across the River Wear in Sunderland and £76.2m would go towards an extension of the Metropolitan Tube line to Watford Junction.
A northern distributor road in Norwich was also granted £86.5m but is dependent on sustainable transport measures being agreed.
Many of the projects will require local councils to provide additional funding.
The funding is in addition to £574m announced for 20 projects in the Autumn Statement in November.
'Great news'
The new River Wear crossing will become England's tallest bridge. It will be 590ft (180m) high and 1,102ft (336m) long and will link Wessington Way on the north side of the river to Pallion New Road on the south.
Sunderland City Council leader Paul Watson said it was "great news for Sunderland and the wider region".
Transport Secretary Justine Greening said the transport schemes would "strengthen local economies".
"Almost all journeys begin and end on local authority networks, which provide the crucial links that allow people and businesses to prosper," she said.
"We are investing in schemes that will provide better access to jobs and services, reduce congestion and enable more goods to move more easily around our country."
Norfolk County Council leader Derrick Murphy said the go-ahead for the Norwich bypass was "a tremendous shot-in-the-arm for the Norfolk economy".
Other schemes which have been approved for Department for Transport (DfT) funding include improvements to buses in north Bristol and enhancements for the Nottingham ring road.
Improvements to Bath's park-and-ride and an upgrade for Weston-super-Mare's motorway junction were also granted funding.
In Cornwall, a new east-west link road from Cambourne to Pool and Redruth has been allocated £16.1m of funding.
Graeme Hicks, Cornwall Council's portfolio holder for highways and transportation, said he was delighted "that the government has given its support to this scheme".
Mr Hicks said: "We have worked hard in competing against 44 other schemes nationally and the decision is good news for the future of the Camborne Pool Redruth area."
The council said the scheme would create more than 5,500 jobs, cut congestion and improve air quality on the A3047.
Chester Road in Birmingham will be widened to a three-lane dual carriageway while the rail route between Coventry and Nuneaton will be upgraded.
Town centre improvements
Marcus Jones, Conservative MP for Nuneaton, said: "In Nuneaton we, as everywhere, have got numbers of young people that are unemployed.
"Those young people often don't have their own transport and this transport link will allow them to access jobs further afield."
A new park-and-ride scheme will be built between Gloucester and neighbouring Cheltenham with the assistance of £14.1m in government funding.
Loughborough will be given £14.8m for town centre improvements, while similar improvements in Luton will gain £15.9m in funding.
In Worcester, £14.2m is going towards improvements to Foregate Street and Malvern Link railway stations.
Leeds will be given money to improve the Inner Relief Road, with maintenance to be carried out on the Woodhouse Tunnel if extra funding from other bodies can be found.
In Sheffield, £19.4m will be spent on the first phase of a bus "rapid transit" scheme along the Don Valley towards Rotherham, while almost £32m has been set aside for a similar scheme to improve bus services in Blackburn and East Lancashire.
In Beverley, the DfT is contributing £20.7m towards a new 1.8-mile road and a bridge over the Hull railway line and a bypass for Morpeth will gain £21.1m in funding.
The DfT has offered £35.9m towards the A684 Bedale bypass - less than North Yorkshire County Council had asked for. The council has until January to decide whether to accept the lower level of funding, the DfT said.
Meanwhile transport bosses in Leeds said they were "astounded" by a government decision to delay a trolleybus scheme in the city.
Plans for the £245m scheme, which were first discussed in 2007, have been deferred until next March.