Weston-super-Mare's Tropicana to be demolished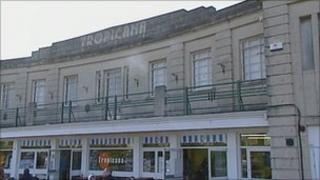 The derelict Tropicana tourist attraction in Weston-super-Mare is to be demolished.
Conservative-run North Somerset Council made the decision on Tuesday despite pleas from protesters to save it.
Several attempts have been made in the past to redevelop the former outdoor swimming pool which closed in 2000.
A recent independent study into the Tropicana's future concluded that there was not enough evidence to prove the viability of any revamp scheme.
The most recent attempt to revive the attraction fell through in January when Richard Nightingale withdrew his proposal for an ocean-liner style building which would house a swimming pool.
At the time, Mr Nightingale said he was "heartbroken" while the council said it was "very disappointed".
A previous scheme to regenerate the site, by construction firm Henry Boot, was hit by the recession.
The building, which enjoyed its heyday in the 1960s, has been empty since 2000.