Contracts signed for new Bristol Rovers stadium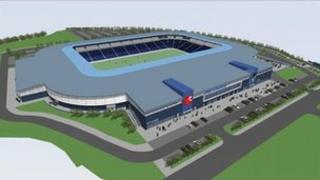 Bristol Rovers has reached a deal with University of the West of England (UWE) and Sainsbury's so it can build a new stadium on university ground.
The football club can now sell its current home, the Memorial Stadium, to Sainsbury's in order to finance the new stadium at the Frenchay campus.
A spokesman from the club said they now plan to complete the consultation process with an exhibition in January.
A planning application for the stadium will be submitted in February or March.
'Investment and growth'
Nick Higgs, chairman of Bristol Rovers, said: "This agreement is a significant step in securing a sustainable future for the club.
"The move to the Frenchay campus will be fantastic for our supporters as they will be able to take advantage of the excellent transport links, including the A4174, Parkway and Abbey Wood stations and a new car park.
"Local residents and students will benefit from fantastic new facilities."
The new 20,000-seater stadium is expected to cost about £40m and will also include a club shop, conference and teaching space as well as a jogging track and gym.
Professor Steve West, vice-chancellor at UWE Bristol, said: "I am delighted that we have been able to take this initiative for Bristol and south Gloucestershire a step further to reality.
"At a time when belts are tightening it is good to see this ambition being realised with the investment and growth flowing into the region.
"The UWE stadium we hope will also allow the university to reach out to young people and our diverse communities across the region."