Shrien Dewani 'not faking mental illness'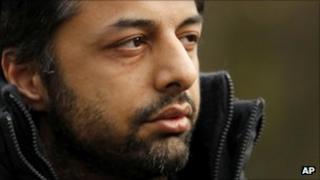 A man accused of plotting the murder of his wife on their honeymoon in South Africa is not faking mental illness to avoid extradition, his lawyer has said.
Shrien Dewani, 31, is challenging an order for his extradition after being charged over the killing of wife Anni.
His barrister told the High Court that extraditing him would "manifestly endanger his health or risk his life".
The care home owner, from Westbury-on-Trym, Bristol, denies any involvement in the killing of his Swedish wife, 28.
In August, a judge ruled Mr Dewani could be sent to South Africa to stand trial.
Home Secretary Theresa May signed an order in September, also approving the extradition.
'Suicide risk'
Mrs Dewani was shot dead when the taxi the couple were travelling in was hijacked in the Gugulethu township in Cape Town, in November last year.
Mr Dewani was released unharmed but his wife's body was found later in the abandoned car.
He is accused of murder, conspiracy to commit murder, robbery with aggravating circumstances and obstructing the administration of justice.
The High Court, sitting in London, was told Mr Dewani, who did not appear, is so unwell he has been detained for a further six months under the Mental Health Act.
He has been diagnosed with severe post-traumatic stress disorder and severe depression, and is currently receiving compulsory psychiatric treatment under the Act, the court heard.
Clare Montgomery QC, Mr Dewani's lawyer, told the court her client was "too ill to be extradited", and would be at a high risk of suicide if he was sent to South Africa.
She asked two judges to block the extradition order, also arguing that Mr Dewani would be at serious risk of violence if he were to be kept in custody in South Africa, including sexual violence, at the hands of other prisoners.
Ms Montgomery argued Mr Dewani was so ill that he would be incapable of giving instructions to his lawyers or following trial proceedings, and said that any extradition should be delayed until he recovered.
'Great care'
She said her client had always wished for a fair trial.
"However that is, at the moment, on the advice we have been given by those who are treating him, not possible," she said.
Ms Montgomery asked the High Court to discharge the extradition order, or adjourn its implementation.
She argued that District Judge Riddle, who ruled that Mr Dewani could be extradited, had fallen into error when he accepted assurances from the South African authorities that her client's life and health would not be endangered.
Written statements from Mr Dewani's legal team said he could not be treated with anti-depressant medication because he suffers from a life-threatening drug reaction.
The South African government is opposing the appeal.
Hugo Keith QC, representing the South African government, said Mr Dewani's defence was just a rerun of evidence that had already been heard in the summer.
He described Judge Riddle's decision to allow Mr Dewani's extradition as "unassailable", and said the case had been considered with great care.
Taxi driver Zola Tongo, 31, from Bothasig, Cape Town, was sentenced to 18 years in jail in December 2010 for murder, kidnapping, robbery with aggravating circumstances and perverting the course of justice, after agreeing a plea bargain.
He told the Western Cape High Court he had been offered 15,000 rand (£1,400) by Mr Dewani to kill his wife.
Two other men, Mziwamadoda Qwabe, 25, and Xolile Mngeni, 23, are also charged with murder, as well as kidnapping and robbery with aggravating circumstances, and are due to go on trial at the Western Cape High Court next year.
The hearing was adjourned until Wednesday.