Black widow spiders found in car imported from California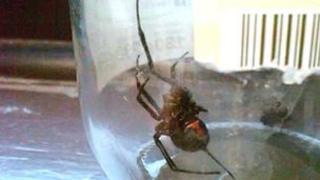 Two venomous black widow spiders which were found in a car imported from the United States have been given a new home in Bristol.
The pair had been nesting inside the 1964 Ford Falcon, which was imported in January, but were only discovered when restoration work started last week.
Mechanics at Oxfordshire-based Damax found the first under the fuel tank and the second behind the dashboard.
The 1.5in-long (3.8cm) spiders have been donated to Bristol Zoo.
Robin Ward, who works in Bicester, said he used the internet to confirm the spider's identity from their hourglass markings.
"Fortunately I'm not scared of spiders, but I had quite a shock when we first suspected it could be a black widow," he said.
"We continued stripping the car with a great deal of caution and couldn't believe it when we found a second spider under the dashboard.
"We were advised to phone a few organisations which might be able to take the spiders but none were able to help [as] I wanted the spiders to be rehomed rather than killed.
"We would have never found either of the spiders had we not completely stripped the car but we've finished it now and are 100% certain that there are no more," he added.
Mark Bushell, from Bristol Zoo, said black widow spiders were not as deadly as people thought.
"Having said that, they could still do some quite serious harm and their bite would certainly cause health problems," he added.
The venom of some black widow spiders can cause cramps and fever although their bites are rarely fatal.
Only the females are venomous and are called black widows because they eat their male partners after mating.