Second enforcement notice for Costa Coffee cafe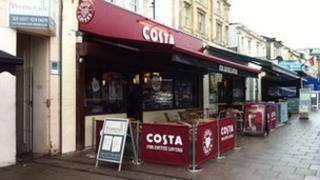 A Costa Coffee shop which opened in Bristol despite losing a bid for planning permission has been served with an enforcement order.
The branch on Gloucester Road currently has permission to operate as a financial services business.
Bristol City Council said although it had served an order it would not be able to take court action until a planning appeal has been heard.
Costa Coffee said: "We have sought to appeal this planning refusal."
Councillor Anthony Negus said: "Where rules are broken, we will move quickly to enforcement as a matter of policy, rather than wasting time and money negotiating fruitlessly."
Residents and nearby businesses handed in a 3,000-name petition to the council before planning permission was denied.
Planners had recommended it be allowed to open but this was rejected by councillors who voted against their advice.
The branch is the second in the city to be served with a planning enforcement notice after a branch on Whiteladies Road opened without permission recently.