Bristol should end poverty, says business leader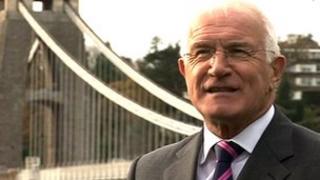 "I don't accept that in a country as civilised as the United Kingdom we have to have poverty, that we have to have unemployment."
John Savage is not a politician, nor a preacher. He is a businessman, with 40 years in commerce behind him.
But he has just published a vision for his home city more ambitious than most manifestos.
It calls for cheap, extensive public transport, good housing and jobs for all, by the year 2050.
Mr Savage said: "The vision has an aim that Bristol will be the first city in the UK that does away with poverty."
'Unique' vision
Mr Savage runs Business West, an influential group which includes the Chambers of Commerce for Bristol and Bath, and covers the whole greater Bristol area.
A self-made businessman, he was shocked by the inner city riots 30 years ago and started an initiative to bring firms and local councils together to combat social problems.
They have achieved much, but Mr Savage says he is frustrated by what he calls the "built-in short-termism" of local politics. So now his group has written a detailed plan for the whole city region, from today until 2050.
Airbus, Rolls-Royce, HSBC, the Bristol Port Company - all the major local employers were involved. Respected town planners and academics lent their expertise to the project.
Prof Martin Boddy, of the University of the West of England, believes the final plan is unprecedented.
He said: "I don't know of anywhere in the United Kingdom that has a plan as ambitious as this, as visionary as this. It really is unique to have something this bold."
In reality, the plan is a whole book. Hundreds of pages of detail, covering everything from transport to housing to a brand new water park under the Clifton Suspension Bridge.
By 2050, the authors estimate the greater Bristol area will have grown by 500,000 people, and need 200,000 new homes. These will come anyway, they say, so it will be far better to plan them carefully.
Prof Boddy said: "The alternative will be poor quality urban development, acres of housing that hasn't been planned alongside the community facilities, the school, the doctors surgery. In terms of transport provision, it would be chaos."
'Just Utopia'
Most business people will tell you that if a deal looks too good to be true, it probably is. So I took Mr Savage to Hartcliffe, to meet the people at the sharp end of Bristol's current divides. The area is in the poorest 10% of council wards in the UK.
We are just a few miles from the city centre, but many here have still never been to Bristol's new shopping centre, Cabot Circus. In the community centre, we meet Jan, a local resident. She told me people here feel cut off.
She said: "There's no work here still. You're talking about eradicating unemployment, but it's just not going to happen without a total change of the economic system. That's just Utopia."
Heather Williams runs the Hartcliffe and Community Partnership. She listens patiently as Mr Savage explains how the plan would bring cheap buses to Hartcliffe, and new jobs.
She said: "Eventually we could work out poverty in this community, but we need the here and now as well. We're already facing funding cuts for next year, how can we plan for 50 years?"
Nobody disagrees with the objective. Jobs for all and a transport and housing system that works are on everyone's Christmas list. But many share Jan's doubt that such a far-reaching vision could become a reality.
Mr Savage is unrepentant.
"If we all go on accepting that we're always going to have 20% unemployment then we're never going to do it," he said.
"I'm not a preacher, I'm a businessman, and I've got a load of business people behind me who accept the fact that unemployment is unacceptable."