Planners back Filton Airfield's closure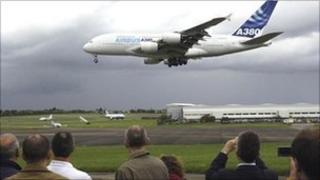 An airfield earmarked for closure near Bristol has no commercial future, an independent report has concluded.
BAE Systems plans to shut Filton Airfield at the end of 2012, which will result in the loss of 19 jobs.
Closure plans are in place despite the airfield making a profit of £1.3m in 2010 following a loss of £710,000 in 2009, the firm said.
South Gloucestershire Council planners backed the closure and recommended up to 2,500 homes be built on the site.
They recommended a third of the airfield should be used for businesses.
The report and recommendations will go before South Gloucestershire councillors on 14 December.
BAE Systems decided to close the airfield because it was losing money and had failed to attract aviation companies to the site, which operates under night and service flight restrictions.
Councillor Brian Allinson said: "Not one of our major local aerospace companies has objected to the airfield's closure.
"A carefully planned approach to redeveloping Filton Airfield can help to ensure that the local aerospace industry has a future as great as its past."
The planners have also recommended that two railway stations - Filton Halt and Henbury - be re-opened.
They also said the A38 should be upgraded and a new east-west link road be built at the south of the airfield to help with extra traffic.
South Gloucestershire Council commissioned York Aviation to carry out the report.