Bristol strikes: Thousands march in city centre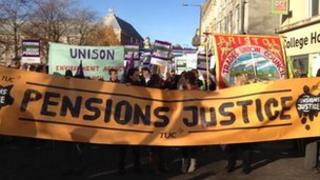 Thousands of people have taken part in a march and rally in Bristol as part of industrial action over changes to pensions.
Unions said up to two million public sector workers across the UK walked out over the proposed changes.
More than 140 of about 180 schools in Bristol were shut or partially closed.
The prime minister's spokesman said the strikes would achieve nothing and it would be better for unions to continue with talks about pensions.
The march left College Green in the city centre at 11:30 GMT and a rally took place at Castle Park at 12:30 GMT where representatives from many public service unions addressed the crowd.
Avon and Somerset Police estimated that 10,000 people took part while Unison said that 20,000 were at the protest.
NUT spokeswoman Nina Franklin told the crowd the unions had entered into negotiations in good faith but that the government had not.
"There's a huge injustice to public service workers and we should all call on the TUC to call the next day of action until we get fair pensions for all.
"The government should be taking notice," Ms Franklin added.
'Strong feeling'
One protester in Bristol, Louise Wakefield, said she was taking action as she did not want to continue working as a physiotherapist until 67.
"We're committed to patients. We don't want to take industrial action but there's such a strong feeling among colleagues.
"We are being penalised on so many fronts," she added.
Retired social worker Anne Walder said she was taking part in the march for her children and grandchildren's benefit.
"OAPs in years to come will either be starved or will end up on Jobseeker's allowance.
"Cameron should be ashamed of himself and should be asking the bankers for the money instead," she added.
A Bristol City Council spokesman said earlier "every effort" would be made to ensure services continued and several departments had minimum levels of staff cover.
Some social workers, residential care staff, home care workers, crematorium staff, highways management and homelessness officers continued to work.
The M Shed museum and Bristol Museum and Art Gallery were closed, along with the recycling centre at Avonmouth, the spokesman said.
More than 90 of the 100 schools in South Gloucestershire were shut.
In Bath, protesters assembled at Royal Victoria Park before embarking on a march and rally on Wednesday afternoon.
Bath and North East Somerset Council said priority had been given to essential services.
About 75 of 100 schools in the authority's area were closed.
North Somerset Council said more than 60 schools of 79 in its area were closed.
Earlier, members of staff at Bristol Royal Infirmary, who were taking part in the industrial action, walked out of the hospital at midnight.
A University Hospitals Bristol NHS Foundation Trust spokesman said all its emergency services were running as normal.