Hitler's bed linen sells at Bristol auction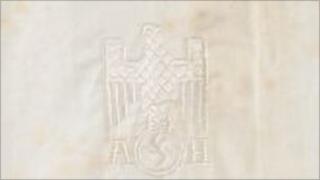 Bed linen believed to have belonged to Adolf Hitler has been sold at auction.
The monogrammed single bedsheet cover and pillowcase sold for £2,000.
The linen features a Third Reich eagle, swastika and the initials AH. It is thought to have been taken from the Nazi leader's home by a member of staff.
It was sold by auctioneers Dreweatts in their militaria sale in Bristol on Tuesday and bought by an unnamed online bidder.
Auction assistant Stella Lyons said: "Hitler had a lot of staff working for him and we believe this was taken from one of his residences.
"It's aged a bit - there are watermarks on the pillow case. They look pretty old."