Chipping Sodbury church needs nativity camel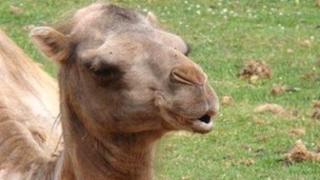 A camel is needed by a Bristol church desperately seeking a late replacement for its "living" nativity scene.
The previous camel's owner was taken ill and so can no longer take part. St John's Church in Chipping Sodbury is appealing for help in sourcing another.
Mark Lloyd, from the Sodbury Chamber of Commerce, said it was "quite easy to find one" but the problem was the cost.
The church hopes to feature a number of animals in a "living crib" scene as part of a nativity festival next week.
'Camel hire'
"What we're worried about is letting the children down because it has been promoted, rightly or wrongly, as being a living crib with a camel," said Mr Lloyd.
He added that the chamber, which had agreed to source and fund the animals, had sorted a £500 deal for the supply of a camel and associated nativity crib scene animals, but that has now fallen through.
Mr Lloyd said he liked a challenge but the problem was the cost.
"I have found several companies but they all want £1,300 to £1,500 which seems a lot for a couple of hours for the hire of a camel.
"So we're desperately trying to find a camel and somebody to take pity on us."