About 350 Bristol City Council posts could go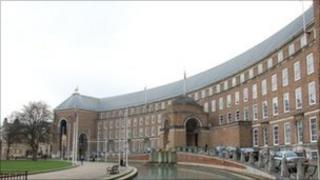 About 350 posts could go at Bristol City Council as part of cost-cutting measures.
The Liberal Democrat-controlled authority said it needed to save £21m - about 6% of its £367m budget.
The authority said it needed to find an extra £9.5m as a one-off expense to pay for redundancy and restructuring costs.
Last year, it made £28m of savings and axed 360 positions. The council employs a total of 6,700 people, excluding those that work in schools.
It is believed the bulk of this year's cuts will come from efficiency savings, including replacing the bulbs in street lights with the more energy-efficient LED bulbs, which the council said would save about £300,000 a year.
Council leader Barbara Janke said that in the 2011-12 budget the authority managed to make £28m of savings without having to "slash" front-line services.
She added: "However, a large number of vulnerable people in Bristol are dependent on our services.
"The proposals seek to protect services when possible even though this may mean a change in the way services are provided."
Peter Hammond, leader of the Labour group on the council, said the budget "really makes you see what the Lib Dem administration values and which groups they think it's all right to let down with budget cuts".
He added: "As usual it's older people and young people who get it in the neck.
"What surprises me is that the Lib Dems here are happy to do exactly what the Conservative-led government tells them to do no matter what the consequences for the elderly and the vulnerable and their families."
However, council leaders said the extra one-off costs would help towards further savings in years to come and represented a good investment.
The council is also now looking to boost its income by charging £1 per car for parking at the Ashton Court Estate and by charging for its rat-catching services, which were previously free of charge.
A final decision is due in February.