Stokes Croft Tesco store planning decision 'correct'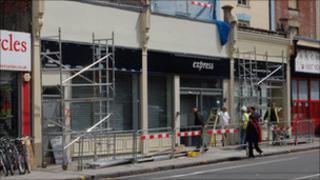 Campaigners have lost the battle against Bristol City Council's decision to award planning permission for a Tesco Express store in Stokes Croft.
Following a judicial review, a High Court judge ruled the council and supermarket both acted lawfully.
Protesters claimed that, during the planning process, the authority had failed to assess the traffic impact of deliveries at the store.
A council spokesman "welcomed" the judgement.
Earlier this year, protesters applied for the review of the council's planning procedures but it was initially rejected.
That decision was appealed against and a second judge gave the green light for the review to take place.
'Virtual death-blow'
Claire Milne, who co-ordinated the campaign, said the judge had "slipped the knife into community groups fighting supermarkets nationwide".
"His ruling has further propped open the door for supermarkets to exploit planning laws and ride rough-shod over seemingly all opposition, into communities and neighbourhoods up and down the country," she said.
A spokesman for Bristol City Council said: "We welcome today's judgement which confirms the development control committee, which considered the applications on 8 December 2010, took into account all relevant considerations when it made its decision.
"While the council recognised that there was opposition to the opening of a supermarket at this location, planning permission for a retail store already existed and the applications submitted by Tesco and considered by the committee was only for signage, the shopfront design and plant and machinery to be located at the rear of the store outside the premises."
The store was at the centre of violent protests in April when it was attacked by protesters after a raid on a nearby squat.
The shop front of the store was also attacked when a second protest a week later turned violent.