Airbus announces 200 engineering jobs at Filton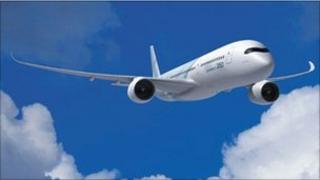 Aircraft manufacturer Airbus has announced 200 new jobs at its base in Filton, near Bristol.
The company says the new engineering jobs are due to demand for its A350 passenger plane and government investment in the plant.
The lightweight composite aircraft was due to come into service in 2013 but will now enter service in the first half of 2014.
Airbus has more than 550 orders for the A350 - which can carry 340 passengers.
'Huge orders'
Business Secretary Vince Cable was visiting Airbus on Thursday morning. The firm has received a conditional offer of funding from the government's £1.4bn Regional Growth Fund.
Announcing the jobs, Neil Scott, head of engineering at Airbus Filton, said the company "probably" made the best wings in the world so it needed the best engineers.
"They'll work on the next generation of the A350, on further refining the world's latest passenger plane - the A380 - and on creating the aircraft of the future, the A320neo," Mr Scott said.
BBC West's business correspondent Dave Harvey said: "These are skilled engineering jobs, and so will be especially welcome in Filton, after the recent job losses announced by BAE systems and the Ministry of Defence.
"They reflect the fact that while military spending is being cut, civilian aerospace is doing well at the moment, with huge orders from India, China and the Middle East."
In September, defence giant BAE Systems said it was cutting almost 3,000 jobs, including 206 in Bristol and Somerset.