Public inquiry call into Bristol Tesco clashes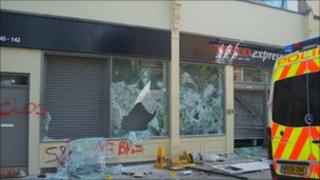 An 1,100-name petition has been handed to council leaders calling for a public inquiry into the disturbances in Bristol near a new Tesco store.
Clashes began in Stokes Croft in April when police raided a squat, fearing the store was to be petrol bombed.
The Green party's Ben Appleby said: "The policing of the events was questionable, or at least the police have questions to answer."
The petition will now be considered by Bristol City Council.
"I'm not directly criticising the police - there are lessons to be learned and we want to prevent these things from happening in the future," added Mr Appleby.
During the street clashes over the Easter weekend, 21 and 22 April, the newly-opened Tesco shop was damaged, and bins and skips were set alight.
A spokesman for Avon and Somerset Police said they were unable to comment over "sweeping statements" on events which took place over a number of days and could only comment on specific points.
When asked for their views on the need for a public inquiry they said it was not their place to offer an opinion.