Vince Cable opens Bristol carbon fibre research centre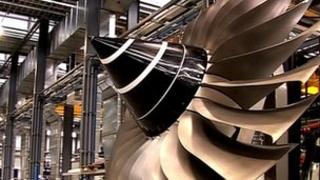 It makes aircraft save fuel. It makes wind turbines produce more power. It makes Formula 1 cars go even faster.
Across industry, this material is gradually replacing steel and aluminium.
They call it "composite", because it has multiple layers. The most common form is carbon fibre, and it is changing the face of engineering.
Now a national composites research centre has opened in Bristol's Science Park, to develop the technology.
'Age of Composites'
I first had my eyes opened to the impact of composite technology by the chairman of the South West Regional Development Agency. Sir Harry Studholme was announcing plans for the National Composites Centre (NCC) two years ago and he put a grand scale on it all.
He said: "We've had the iron age, and the industrial age. Now we are entering the age of composites."
A grand statement, but not ridiculous. Boeing's new passenger plane, the so-called Dreamliner, is made almost entirely from composites. Airbus will unleash their own rival in 2014, the A350.
Why? Quite simply, because composite materials are lighter than metal. Making these aircraft from composites cuts fuel bills by a third.
Already, Airbus has a composite military cargo plane in the skies. The wings, made entirely from composites, are manufactured in Filton. It may be lightweight, but it can lift 37 tonnes.
The wings that can lift an armoured car start off as light floppy black tape and are made at the new GKN factory at Avonmouth, where they make parts for the Airbus A350.
And it is not just plane makers who love composites. Wind turbines use it, for the same reason in reverse. A lighter blade will spin faster in the same breeze, generating more power.
Rolls Royce are now plunging composite blades underwater, searching for a material that will stand the salt and the pressure, and drive tidal turbines.
For years, Formula 1 cars have used super light composites to gain speed. Now electric car makers are experimenting with composite bodies. Save a kilogram in the body, they say, and you save another kilo in battery weight.
Almost everywhere you look, metal is on the way out, and composites are coming.
The NCC's director, Peter Chivers, said: "Anywhere that if we make things lighter, we save fuel and cut carbon, composites are valuable."
Until now, research for this new technology had all been done in-house, by huge multi-nationals like Airbus, Rolls Royce and GKN. This made it hard for small firms to develop innovation, and industry leaders believed it held back UK manufacturing.
At the same time, the science of composites was advancing in universities like Bristol.
The National Composites Centre was built to bridge that gap.
Here, scientists from universities can collaborate with industrial engineers, and develop new composite materials.
Lightweight composite bodies for everyday cars are being explored. Huge 80-metre-long turbine blades, made in a single span, for vast wind farms out at sea. And tiny precision-engineered materials for medical applications and prosthetics.
Mr Chivers believes the benefits to the UK will be huge.
He said: "Composites is a high-growth sector. We're seeing 8% a year, even 15% in some sectors. If the UK can be part of that growth, that has to be good for us."
Hi-tech, high growth, low carbon, this is exactly the kind of industry ministers are desperate for. Which is why the NCC will be opened by Dr Vince Cable, the business secretary.
He said: "Here in the UK we are very good at invention but we need to do more to innovate and turn our ideas into products and jobs."
Dr Cable described the South West as "a real hub for composite and aerospace manufacturing".
It is perhaps ironic that the NCC was conceived, created and delivered by the SW Regional Development Agency, a body now axed by Dr Cable and the coalition. Industry insiders point out that this kind of research takes years to produce results. Some wonder how the next generation of research will be funded, without the support of bodies like the regional development agencies.
But nobody will mention those arguments at the launch party, focussing instead on the opportunities this brave new world of composite engineering offers.
Mr Chivers said: "The West Country has a fabulous array of small firms designing and producing composite technology. This centre will give them access to the very latest machines and research, and put them on a world stage."