Protesters picket Bristol Costa cafe opening without permit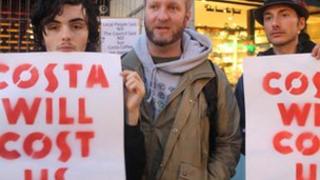 Protesters have picketed outside a coffee shop in Bristol which they say is due to open on Monday without planning permission.
The Costa Coffee franchise on Gloucester Road has been refused permission by Bristol City Council.
Protesters say Costa will undercut independent coffee shops in the area and drive them out of business.
A Costa spokesman said a new coffee shop would have a "re-energising and revitalising" effect on the area.
Plans for the coffee shop on Gloucester Road were rejected in September after a 3,000-name petition was submitted to the council.
Franchise holder Stuart Montgomery is appealing against the decision. He was unavailable for comment.