Occupy Bristol: Protesters build wooden shacks for winter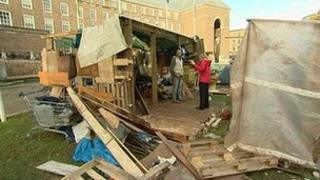 Protesters living in a tented camp in the centre of Bristol have begun building wooden structures in preparation for winter.
The Occupy Bristol protest, the largest tented demo outside London, has been camped on College Green for 34 days.
The group says it is protesting against the unfairness of modern society and has no intention of leaving.
The council says it is an unlawful encampment and is calling for a meeting with protesters on Friday morning.
The demonstrators, inspired by the Occupy Wall Street movement in the US, say they intend to stay as long as possible.
The 60-tent encampment is on land owned by Bristol Cathedral but maintained and managed by Bristol City Council.
Protester Tony Cripps said of the new accommodation: "It will be somewhere where we can bring the public during the winter days.
"Somewhere warm, comfortable so that we can continue our meetings."
The Liberal Democrat city council leader Barbara Janke and the Cathedral Dean are due to meet protesters, for the second time, on Friday morning to try to resolve the situation.