River Avon ladders and grab chains should be fixed, report says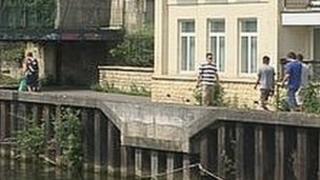 A report into safety along the River Avon in Bath has asked for ladders and missing grab chains to be repaired.
It follows the deaths from drowning of three people, between Windsor Bridge and Churchill Bridge, in recent years.
The findings by the Royal Society for the Prevention of Accidents (Rospa) suggests that fencing be installed in the long term.
It also recommends locals, particularly first year university students, are made more aware of the dangers.
Rospa wants signs to be put up.
'Prevent tragedy'
The report was commissioned by Avon and Somerset Police and Bath and North East Somerset Council (Banes) after the deaths of Kharunigan Jayanatham and Caspar Flagg in 2009, and James Bubear earlier this year.
Mr Bubear was a student at Bath Spa University and Mr Jayanatham was a University of Bath student.
Councillor David Dixon said: "All of the public and private authorities must take all of the report's conclusions and recommendations seriously if we are to help prevent tragedy on this stretch of the River Avon."
Denis McCann, from Avon Fire and Rescue, said: "We fully support the findings of the Rospa report which offers some practical solutions on how safety could be improved along the River Avon in Bath."
The document also calls for the regular cutting back of hedges, grass edges and weeds growing close to the water's edge to keep the path clear.