New venture reunites axed Bristol brand car restorers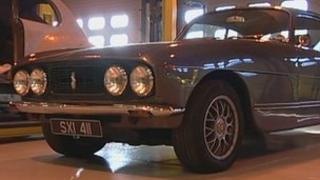 Six skilled car restorers made redundant from a luxury car manufacturer in Bristol in April, have been brought back together.
They were part of a group of 22 members of staff axed when Bristol Cars in Filton went into administration.
Local businessman Stuart Cullen who owns Bespoke Bristol Restorations in Eastgate, has taken them on.
Their skills are now being put to use rebuilding and refurbishing the Bristol brand cars at his garage.
Mr Cullen said: "I thought it would be a real shame to lose all those fantastic skills that had built up - there is over 200 years experience within this factory, of working on Bristol cars.
"I thought it would be lovely to try and keep it going if it was possible."
Bristol Cars began manufacturing luxury, hand-built cars in 1946. Alongside the Rolls Royce and the Bentley, Bristol cars are considered to be some of the most stylish luxury cars in automotive history.
After going into receivership earlier in the year, the company was bought by Kamkorp Autokraft, part of the Frazer-Nash group.
Replica versions
The reunited team at Bespoke Bristol Restorations has so far restored two Bristol cars, with several more booked in over the coming months.
Mr Cullen is also hopeful the company will be building replica versions of the famous old cars within a couple of years.
Workshop manager Geoff Marsh said he thought his life was "finished" after being made redundant from Bristol Cars.
"The colleagues I've got here, some of those I've known for 35 years, and to be able to employ them again, and to be working next to them again is a dream come true," he said.
The ex-Bristol Cars staff re-employed to continue their work at Bespoke Bristol Restorations include 92-year-old Sid Lovesey. Working on Bristol cars has been a lifetime passion for him.
"I was in the war and when I came out I worked on the first one. And being a director of the company as I was for many years, it's nice to see it going again, it really is," he said.