Protest at North Somerset Council youth service cuts debate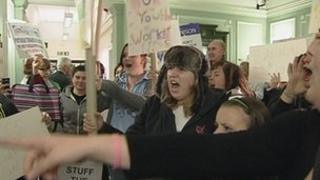 Protesters disrupted a debate on cutting more than £600,000 from North Somerset's youth service budget.
The discussion at Weston-super-Mare Town Hall was also about the axing of all the area's 22 youth worker posts by 2014. Decisions on both were deferred.
One young campaigner said without being able to go to her local youth club there was "nothing to do".
The Conservative-run council is proposing the cuts as part of overall budget savings of £47.3m by 2015.
The proposal is to cut £410,000 over 2012-13 and £210,000 over 2013-14.
Cabinet member for children's and young people's services, Jeremy Blatchford, said 90% of the youth services were not well-used and the council should focus on helping vulnerable families.
'Wrong kind'
Speaking at the meeting, he added: "We didn't come here to destroy services, we came to serve a community and we don't have the money to do the things we want to do and stood to be elected on."
North Somerset Liberal Democrat leader Mike Bell said: "It is so important that councillors listen to the voice of local people and I hope the force of this protest ruffled a few feathers in our stuffy council chamber."
He added that cuts to the youth service "are absolutely the wrong kind of choice to be making".
"Young people are our future and they need good advice and support to make the most of their potential," he said.
Discussions will continue at a scrutiny panel before a public consultation is held. A final decision will be made early next year.