Dry reservoir planned to reduce Bath flood risk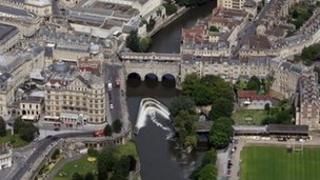 A £5m dry reservoir is being planned at Bathampton to ease the risk of flooding in nearby Bath city centre.
Bath and North East Somerset Council said the potential for flooding meant land between Bath Spa railway station and Western Riverside was underused.
The council said it wanted to create the reservoir upstream to soak up excess water from the River Avon.
The land, alongside the river, would then be used to deliver a mix of housing and businesses.
The authority is working with the Environment Agency on the scheme.
John Betty, the strategic director for major projects at the council, said: "Clearly there are flood risks within Bath."
He added: "The idea is to have flood mitigation - a basin at Bathampton Meadows.
"There is some land there we would remodel and effectively the flooding coming from Wiltshire would be held in the basin at that location."