Police criticised over response to M4 'dangerous' lorry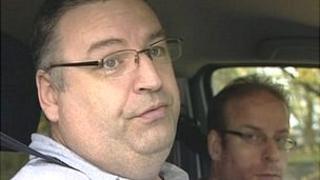 A driver claims he had to call police three times before a lorry driver who was allegedly "swerving all over the place" on the M4 motorway was stopped.
Steven Barnes, of Bristol, said he followed the "dangerous" vehicle for more than 80 miles (128 km) before the driver was arrested near Reading.
He said: "It went through three different constabularies before anything was done."
Avon and Somerset police said the call came in when it was out of their patch.
Mr Barnes was driving from Bristol to Northfleet in Kent on 8 November, when he became "aware of this driver".
"It was in front of us - one of the really big artics with high sides - and it was travelling at 60mph and swerving all over the place," he said.
"One minute he was in lane one and the next minute he was half way over the hard shoulder."
Mr Barnes called the new police emergency number 101 and spoke to Avon and Somerset Police and was "put straight through to control" and explained the situation.
"But eventually - because nothing had happened - we had to phone them back again," he said.
Between junctions 19 and 12, of the M4, Mr Barnes claimed he called 101 twice and "went through three different constabularies" before finally calling 999.
"The first phone call was at 1045 the last phone call was at 1149, that's over an hour waiting for somebody to do something," he said.
"And the fact that we had to eventually do a 999 call to actually get something done - I think is pretty scandalous."
He said he was eventually told by Thames Valley Police the lorry driver had been arrested on suspicion of drink-driving.
An Avon and Somerset Police spokesperson said the vehicle was "out of their patch when they received the call".
Whilst Wiltshire Police said their nearest car was too far away but passed the information to Thames Valley Police, who have not commented.