Occupy Bristol: Public invited to 'bring and share' picnic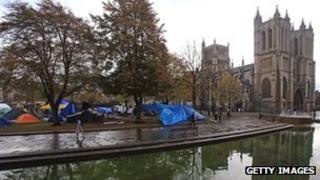 A number of anti-capitalist protesters have hosted a "bring and share" public picnic on College Green in Bristol.
Members of Occupy Bristol invited local faith groups to join the afternoon gathering on Saturday.
They said they planned to follow the picnic with discussions about how working together can help tackle problems.
Julian Wood, a protester, said he hoped the picnic would encourage passers-by to stop and talk to protesters.
"I ran a couple of workshops on College Green about how faith can really contribute to social justice so a few of us came up with the idea on the camp," he said.
"It's really another opportunity to approach people on the camp because people can often walk past and be a bit too scared to walk onto College Green and talk to people."
'Role to play'
The land is owned by Bristol Cathedral but is maintained and managed by Bristol City Council.
Simon Bale, from the Bristol Multifaith Forum, said the camp had not caused any kind of split among the city's faith groups.
"We want to do something about the inequalities that there are in the world," he said.
"We recognise that we all have a role to play and we are supportive of movements and campaigns which raise the question in the first place and then help to come up with some solutions."
The demonstrators, inspired by the Occupy Wall Street movement in the US, have been protesting on College Green for the past month.