River Avon closed over Victoria Bridge concerns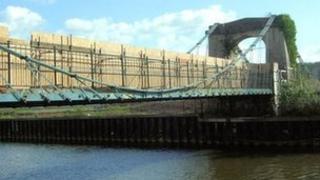 Boats have been stopped from using a section of river in Bath because of fears over an unsafe suspension bridge.
Victoria Bridge, over the River Avon, was closed last year because of safety concerns but now river craft are being told to avoid the water underneath.
The stretch between the Weston lock and the Bath flight of locks has been closed until further notice is given.
It was announced on Wednesday that the towpaths would be closed this weekend whilst the bridge was being propped up.
A British Waterways spokesman said it was cooperating with Bath and North East Somerset Council (BANES) which owns the bridge.
"The council inspected the bridge earlier and were officially concerned enough to close the river to boat traffic," he said.
"We will be meeting with BANES on Monday to understand what that risk is."