Bristol South MP Dawn Primarolo to stand down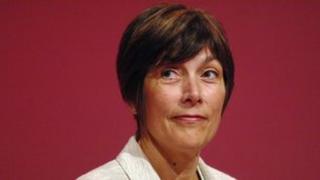 Bristol South MP and former minister Dawn Primarolo is to stand down at the next general election.
The Labour MP, who has been in the seat since 1987, told Bristol South Labour Party members of her decision at a meeting on Thursday night.
She has served as a minister in the Treasury, the Department of Health and the Department for Children, Schools and Families.
She was elected as a Deputy Speaker in the House of Commons last year.
Ms Primarolo, 57, joined the Labour Party in the 1970s and worked for Tony Benn.
'Long time'
She said it was "a huge honour" to represent the people in her constituency.
Ms Primarolo told BBC Bristol: "When I was selected to be the candidate in Bristol South my son was eight and my grandson will be eight in 2015 - that's a generation, that's actually quite a long time.
"And with fixed-term Parliaments, I realised that I would have to be committing myself in 2015 to 2020, which is nine years away.
"I suddenly thought actually it was just my time to go... anybody who's ever faced this will probably understand it and everybody else will think 'what's she talking about', but I just feel it's the right time now for me to move on.
"I just wanted to give as much notice as I could - I really didn't want to spend the next three years leading people to believe that I was going to stand when I wasn't."
She said "a great thank you" to her constituents.
"It's a huge privilege and confidence that they have shown in me in electing me at six general elections.
"I think we've made a fantastic partnership."
Bristol City Labour councillor Helen Holland described Ms Primarolo as "a great friend".
"One of Dawn's great strengths is what you see is what you get," she said.
"I know that she's going to carry on working very hard for us for three-and-a-half years."
Labour Party leader Ed Miliband said: "She has been a fantastic servant to the people of Bristol South, and I know that she will continue to fight hard for the residents of Bristol South in the coming years."