Police in Bristol hunt butcher's shop vandal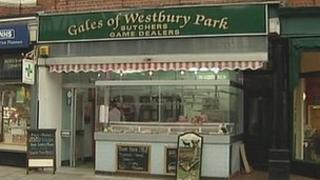 Six butcher's shops across Bristol have been targeted by a hooded vandal who hurled bricks at their windows.
The family-run businesses have been deliberately vandalised 11 times in total in the last eight weeks.
Andy Gale, from Gales of Westbury Park, said his shop was attacked three times but nothing was stolen.
An Avon and Somerset Police spokesperson said detectives were looking into the possibility that the incidents could be linked.
Four butcher's shops within a few miles of each other have been attacked eight times since the beginning of September. Millhouse Butchers has been attacked twice, as has Molesworths of Henleaze.
Banables on Keynsham High Street was also targeted twice, and Powells of Olveston has been attacked once.
'Open mind'
Sheepdrove Organic Farm shop on Lower Redland Road has been hit once.
Graham Symes, 58, shop manager at Molesworths butchers, said: "Both times rocks were found but this person has left no clues.
"None of the other butchers know either, they are as clueless as us."
According to police, all the attacks have taken place in the early hours of the morning, with a number taking place on the same night.
Andy Gale, 50, partner at Gales of Westbury Park, said a brick was thrown through the window at about 02:00 GMT but nothing was stolen.
"People have seen him, but he had a hoodie on and you couldn't see his face," he said.
In a statement, Avon and Somerset Police said they were "keeping an open mind in relation to the motive behind these attacks" and urged anyone who has not reported an incident to do so.