New Clifton Suspension Bridge visitor centre planned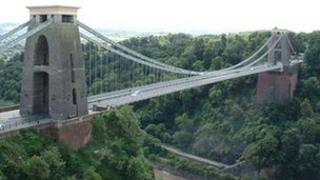 Plans for a new £1.9m visitor centre at Clifton Suspension Bridge have been unveiled.
The centre would replace the temporary pre-fab building which has been used since the former visitor centre was sold in 2003.
The new building would be much larger and offer more space for exhibits, a gift shop and school facilities.
Trustees want the development to be completed by December 2014 in time for the bridge's 150th anniversary.
Bridge Master David Anderson said: "We'd like to provide a new heritage centre which will really improve the information we can give to visitors to the bridge and provide a much better experience to visitors."
The Clifton Suspension Bridge Trust have most of the funding needed for the new centre but are seeking sponsorship and applying to the Heritage Lottery Fund to make up the shortfall.
A further £400,000 is needed to meet the cost of the development.
A planning application will be submitted to North Somerset Council early in 2012 after a public consultation.
The plans will be on display to the public at the current visitor centre and online from 17 November.