Children in Need funds Bristol's Jessie May Trust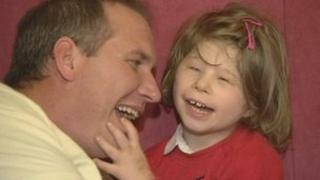 Long-term Children in Need funding has been a "tremendous" help, a Bristol charity has said.
A £75,000 grant enabled the Jessie May Trust to invest in a full-time nurse to give individual care for youngsters with life-limiting conditions.
Chief Executive Chris Roys said: "The number of families and children who have benefited from that support is just tremendous."
Children in Need has given £679,000 to 21 Bristol projects in the past year.
'Cherished and loved'
The grant money to the Jessie May Trust was part of a three-year funding programme which started in 2009 and is due to finish next year.
"It is vitally important for these children that they can stay at home with their families where they are cherished and loved," said Mr Roys.
The charity offers respite care and nursing support for families such as the Starzeck family.
Helen and Wayne have a daughter, Kelly, who was born with a hole in her heart, suspected Down's Syndrome and a deformed skull.
"She tends to look after herself pretty much, but we've got to do her medications, but she's a bundle of joy, she's such a character," said Mr Starzeck.
Kelly also has difficulty in walking and suffers epilepsy seizures, which could result in a fatal cardiac arrest.
"They come in and offer us respite care, dependent on we call them they turn up at short notice, I do football, and the Jessie May nurse can come in so Helen can spend time with Kelly's other siblings," said Wayne.
"It gives us more time to spend time with the other children, it gives us what everybody else takes for granted," added Helen.
BBC Local Radio is hosting 22 special screenings of Grease in aid of Children in Need, at Cineworld cinemas across England on Tuesday 15 November. Tickets are £6, with £5 going to Children in Need. More details here.