Avon and Somerset Police bring back speed courses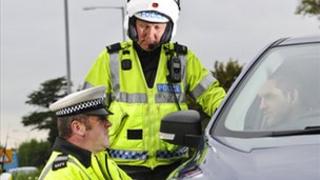 Drivers in Avon and Somerset could once again face speed education courses, seven months after they were withdrawn.
Since March speeding drivers caught on camera who would normally have been put on such a course have instead been sent a warning letter from police.
Now as part of a three-month campaign, Avon and Somerset Police has brought the courses back and said it is "taking a tougher approach" against offenders.
The TTC Group has been appointed to run the courses, which begin on 5 December.
A police spokesman said: "While we will be robust with speeders, education over prosecution will assist in keeping our communities safe.
"Research has shown that when faced with the full impact and possible consequences of speeding, individuals are less likely to speed again.
"We will be offering a national education course as an alternative to prosecution, in circumstances when Home Office criteria are met."
Also during the campaign mobile camera vans are being used by the police to enforce speed limits at six locations where they say speeding traffic is an issue.