Jo Yeates's landlord Christopher Jefferies 'getting on with life'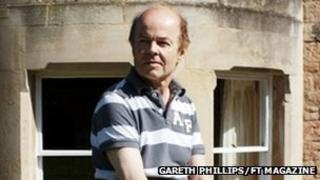 The landlord of Jo Yeates has said he is reaching the point where he can get on with his life again.
Christopher Jefferies, who lived in the flat above the Bristol landscape architect, sued several newspapers for their "lurid" coverage of his arrest on suspicion of her murder.
He also criticised plans to change the law on no-win, no-fee cases, which he said would have stopped him from suing.
Vincent Tabak, 33, was last week convicted of murdering Miss Yeates.
The 25 year old, originally from Ampfield in Hampshire, was found dead on Christmas Day last year.
Substantial damages
Mr Jefferies, who lived above Miss Yeates and her boyfriend Greg Reardon in Canynge Road, Clifton, was arrested on suspicion of murder on 30 December.
He spent three days in police custody and was eventually released from police bail in March.
Speaking to BBC Radio 4's Today programme about his ordeal with elements of the press and the police, Mr Jefferies said: "It has taken up a whole year virtually of my life, that period of time has meant that everything else that I would normally be doing has been in abeyance.
"But, fortunately, I think I'm approaching the point at which I can start to take up the reins from the end of last year."
Mr Jefferies accepted an apology and "substantial" libel damages from the Sun, Mirror, Sunday Mirror, Daily Mail, Daily Record, Daily Express, Daily Star and the Scotsman for their coverage after his arrest.
The former English teacher also told the programme of his dismay at government plans to reform "no-win, no-fee" conditional fee agreements.
In March, Justice Secretary Kenneth Clarke announced plans to change the system for England and Wales.
He said lawyers would no longer be able to claim "success fees" from the losing side, and should instead receive a share of the damages.
'Tissue of fabrications'
Mr Jefferies said: "I think there is absolutely no question that I wouldn't have been able to take the action that I did because at the moment, one is able to take out a conditional fee agreement and that means that the lawyer's success fees, which are a percentage of the total legal costs of taking the action, will be paid by the other side and one won't be responsible for those.
"Because these cases can be dragged out over a considerable period of time, particularly if they go to court, then legal fees are astronomic.
"One couldn't begin to potentially expose oneself to the risk of having to pay tens if not hundreds of thousands of pounds in advance."
Mr Jefferies, who taught at the Bristol public school Clifton College for 34 years, said he only learned about "lurid" press coverage about him "considerably after" he was released from custody.
"During the time that I was in custody, the solicitor who was representing me had very wisely decided that it was certainly not a good idea that I should be made aware of that.
"Friends, after my release, protected me a great deal from it," he said.
Mr Jefferies added that he only learned of the details when he was staying with friends and decided to go in to Bristol to pick up some clothes.
"It was at that point that the solicitor emphasised in no uncertain terms that this would be an extremely bad idea and that, if necessary, he would come down from London to dissuade me in person.
"It was at that point that I realised just how much of a household name, for all the wrong reasons, I had become."
He previously said he had been so violated it felt like "rape".
"When I was talking about that I was referring to the extraordinary tissue of fabrications and misrepresentations that appeared in the press - that didn't refer to my treatment at the hands of the police," he told the programme.
"I was merely drawing an analogy and saying that when one is arrested one is in a particularly defenceless position and it is then made doubly worse if on to that defenceless person is imposed the entirely defamatory and the entirely unreal personality that was imposed upon me."
Tabak, the Dutch engineer who was Miss Yeates's next-door neighbour as well as being Mr Jefferies' tenant, was found guilty of her murder by a jury at Bristol Crown Court on Friday.
He was jailed for a minimum of 20 years.
In July, the Daily Mirror and the Sun were fined for being in contempt of court by the High Court over their reporting of the police investigation.
The Daily Mirror was fined £50,000 and the Sun £18,000.
Mr Jefferies is also pursuing a civil case against Avon and Somerset Police for wrongful arrest and false imprisonment.
In a statement about the proposed changes to the no-win, no-fee rules, a government spokesman said: "There are many deserving cases brought before the courts. But we have to stop the abuse of the system by others pursing excessive, costly and unnecessary cases.
"Under the current arrangements, innocent defendants can face enormous costs, which can discourage them from fighting cases. This simply isn't fair.
"So in order to ensure that the no-win, no-fee cases continue to provide fair access to justice for all, we have to make changes.
"By balancing the costs more fairly between the claimant and defendant, these changes will ensure that claimants will still be able to bring deserving claims, and receive damages where they are due. Most importantly they will make the no-win, no-fee system sustainable for the future."