Donor milk bank opens at Bristol's Southmead Hospital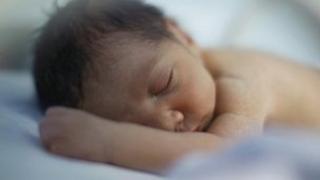 A donor milk bank has opened at Southmead Hospital in Bristol to help very sick or premature babies.
The donor milk will be pasteurized and screened for diseases before use.
Infant feeding midwife, Marion Copeland, said: "It can be life-saving for sick and preterm babies but sometimes a mother is ill or unable to provide milk for her baby."
The milk bank was set up through a fundraising campaign launched in May 2008, raising nearly £75,000.
One of the first donors is Valeria Varga-Juszczk whose daughter Emma was born prematurely at 28 weeks.
She said: "I can't breast feed yet I have more than enough milk for her, as she's too tiny to suck properly.
"I think it's perfectly natural to help, if you have the opportunity to help, it's such a tiny investment, then why wouldn't you?"
Previously the supply of donor milk was delivered free of charge to the neonatal intensive care unit from Oxford by blood bike charities.
When supplies ran low, the donor milk would be sourced from Chester Hospital.
Now that the milk bank has opened the blood bike charities will now carry out a donor collection service and deliver it to Southmead hospital.