Vincent Tabak porn decision was 'correct'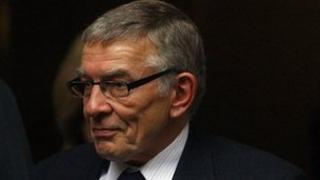 The father of landscape architect Jo Yeates says the decision not to tell the jury about her murderer's use of violent pornography was correct.
On Friday, her neighbour Vincent Tabak, 33, was jailed at Bristol Crown Court for a minimum of 20 years for strangling Miss Yeates.
But details of his use of violent porn were not disclosed to jurors.
Speaking to the BBC, David Yeates said he was not sure it had contributed to Miss Yeates's death.
"It was right the porn was not shown. My wife and I are still not certain it contributed to what happened," he said.
"There are a lot of questions not answered. We still don't know why. But we don't feel in our hearts the porn contributed."
He said he and his wife Teresa, of Ampfield in Hampshire, were still coming to terms with how they felt, but "now know where we're starting the rest of our lives from".
Tabak's secret double life only came to light as the guilty verdict was delivered.
On the morning of Miss Yeates's murder he watched hardcore porn and in the weeks after he killed her he watched violent sex films online.
The sites showed images of of men choking women during sex, images of other women tied up in car boots and others being bound and gagged.
The prosecution wanted the information about Tabak's secret life, plus his visits to prostitutes in the US while on business, to be put before the jury.
Mr Justice Field declined the application, and the man who led Vincent Tabak's defence team said it was the right decision.
Lawyer Geoffrey Morson, the father of Tabak's former girlfriend Tanja Morson, said the family did not know about Tabak's use of violent pornography.
"Had we or our daughter known, we would never have associated with anything as depraved," he said.
He told the BBC that Miss Morson was "taking it all in".
Ian Kelcey, the leader of Tabak's defence team, also backed the judge's decision saying it could have unduly influenced the jury.
"The decision was taken in that it was entirely prejudicial and probative of nothing - it proved nothing of what actually happened in the fatal few minutes in Joanna's flat.
"Sometimes people think because there is some bad character or reprehensible behaviour, it must go in. It doesn't follow that it must go in - it has to go in to prove a point."
Miss Yeates's brother Chris said he was in two minds about whether the jury should have been told of Tabak's past.
"Anything that painted his character for what it was, the jury should know," he said.
"But the information could have prejudiced the trial - and led to an appeal. The judge had his reasons therefore."
Legal experts the BBC has spoken to highlight this issue of the possible appeal by the defendant as crucial.
The risk for the prosecution is that the jury does not know about something which the prosecution thinks is relevant - but this has to be balanced in its minds against the risk that the material could help an appeal.
Barrister Rob Buckland, who is also the Conservative MP for Swindon South, said he believed the balance was "more or less right".
He said: "The public will ask questions and be concerned. But they need reassuring that the law has been changed - that material is capable of being admitted before the jury, but only on a very strict test of relevance.
"I'd rather have safe convictions and fair trials than witch-hunts and a general blackening of character which is irrelevant to the issue in the case."
Inside Out West is on BBC One (West) at 19:30 GMT on Monday, including an exclusive interview with Bristol solicitor Ian Kelcey