Vincent Tabak trial: Jo Yeates killer 'clever and deceitful'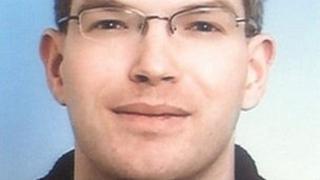 The man accused of murdering Jo Yeates is "very clever" but also "dishonest, deceitful and a liar", a court has been told.
Vincent Tabak, 33, has admitted Miss Yeates's manslaughter at her Bristol flat but denies murder.
Prosecutor Nigel Lickley QC told Bristol Crown Court Tabak had sex on his mind when he went to her flat.
William Clegg QC, defending, said the evidence did not support the Mr Lickley's claims.
Miss Yeates, 25, was strangled at her home in Canynge Road, Clifton, on 17 December 2010.
Jurors heard the prosecution and defence's closing speeches as the trial draws to a conclusion.
The body of Miss Yeates, originally from Ampfield, Hampshire, was found by dog walkers on Christmas Day in Longwood Lane, Failand, North Somerset.
Mr Lickley said Tabak could have walked away from the attack on Miss Yeates.
The prosecutor told the jury: "Vincent Tabak is very clever, he is intelligent.
"There is another side to Vincent Tabak. He is dishonest, deceitful and he is a liar."
'Smothering hand'
The prosecutor alleged the Dutch engineer had struggled with Miss Yeates as she fought for her life.
However, he went to her flat, with sex on his mind, Mr Lickley said.
Mr Lickley added: "He knew what he was doing. He was in control and he knew she would die and he held her neck long enough, and coupled with a smothering second hand, to be sure that she would.
"It goes to his intent and his intention to kill or cause really serious bodily harm.
"The whole incident is linked to sex. This is a killing linked to sex."
Mr Lickley also accused Tabak of making up his recollections of the night of 17 December.
He told jurors that, when Tabak gave evidence, he answered "can't remember" to more than 80 questions.
Defending Tabak, William Clegg QC appealed to the jury to reach a verdict based on the evidence alone.
"I am not going to ask you to excuse his conduct after the killing, there can be no excuse," he said.
He said Tabak's behaviour was "dreadful" and added: "But it does not alter what was in his mind at the time it happened.
'Seconds of madness'
Mr Clegg said the evidence did not support the prosecution's claims that Miss Yeates's death was "planned, premeditated and sexually motivated".
He said the prosecution could not explain how Tabak got inside Miss Yeates's flat and suggested Tabak's claim that he was invited in was correct.
He said the prosecution claim that Tabak had picked up Miss Yeates's cat and taken it to her flat were not supported by evidence.
"That goes a long way to destroy the suggestion that this killing was planned," Mr Clegg said.
He also asked the jury to accept Tabak's view that Miss Yeates died after 21:35 GMT and not shortly after she arrived home at 20:45 GMT.
Mr Clegg added that witness reports of screams coming from Canynge Road were more likely to be students than Miss Yeates.
"I am going to invite you to conclude this was a very short, fast-moving incident which would have been over in less than 30 seconds," he said.
"That is what this case is about - whether or not Vincent Tabak had formed an intention to kill or cause serious harm to Joanna Yeates.
"There was a few seconds of madness.
"We would invite you to say the fact he cannot provide a second-by-second account in what happened in that fast-moving, dynamic situation is really not surprising.
"Could you really expect it of anyone?"
Mr Justice Field is due to begin summing up on Wednesday.