Bristol protesters call for toilets and running water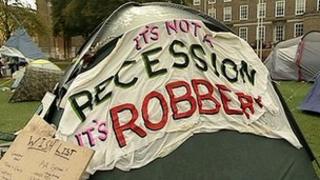 Anti-capitalist protesters camped-out in the centre of Bristol have called on the council to provide more facilities.
The demonstrators, inspired by the Occupy Wall Street movement in the US, have been protesting on College Green in the city for more than a week.
The Occupy Bristol campsite has already been given recycling bins, but protesters have now called for toilets, running water and postal deliveries.
Councillor Guy Poultney said they would not receive more amenities.
The Occupy Bristol movement is part of a worldwide protest against alleged corporate greed.
Polly, one of the campaigners taking part in the demonstration, said they should be supported by the council.
"I don't know if it's about a right but I feel that we are offering something to the community," she said.
"And if we could co-operate with the council and if they could give us basic amenities and recognise what we are doing here, that would be really great."
The land is owned by Bristol Cathedral, but is maintained and managed by Bristol City Council.
Guy Poultney, the Lib Dem council cabinet member for neighbourhoods, said he was adamant the demonstrators would not receive any more amenities.
"It's a peaceful protest but it is also an occupation and obviously there's a right to a peaceful protest but we shouldn't facilitate making that permanent with tax payers money," he said.
"So far we've provided them with some recycling bins, which is obviously relatively cheap and we've done that to keep College Green as neat and tidy as possible while this is going on.
"But in terms of more being given - toilets, running water and post - the tax payer is not going to foot the bill."