Moped rider Conor Hall had 'significant head injury'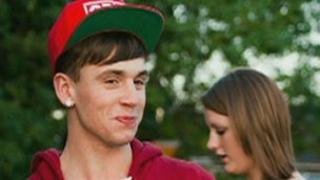 An inquest into the death of a teenage moped rider from Bristol has been told he died of a significant head injury.
Conor Hall, 16, was thrown clear of his machine during the collision in June. His helmet, which was not properly fastened, fell off.
The Avon Coroner pledged her support for his family's campaign "Clip up for Conor" which encourages riders to wear their crash helmets properly.
Maria Voisin recorded the narrative verdict at Flax Bourton Coroners Court.
'Memorial march'
A narrative verdict is one where the circumstances of a death are recorded.
Conor was taken to Frenchay Hospital following the accident on 11 June, but died five days later.
It was later found he had not clipped up his helmet because it was thought to be "uncool".
Last month hundreds marched from his memorial bench in Downend to the crash site in Fishponds.
Speaking then, Conor's mother, Arline Hall said she had been unaware that her son and his friends were not wearing their helmets correctly and that he was "always taught it's dangerous on the roads".
Mrs Hall added Conor had only sustained a few scratches on his body and clipping up the helmet may have saved his life.