Council's rescue plan for Bristol's £255m Finzels Reach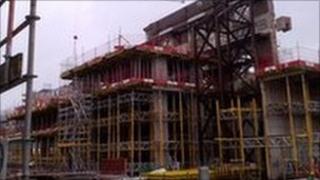 Developers working on a £255m regeneration project in Bristol may be freed from their obligation to build 37 affordable homes by the city council.
In 2006 developers won planning approval to turn the Finzels Reach site into a business and leisure zone.
But in April the firm HDG Mansur told the council it was struggling to continue because of the recession.
Now councillors could remove the affordable homes requirement to prevent the project from being mothballed.
Although the developers have met some of the affordable homes requirements, the council will decide whether to remove the obligation to build 37 homes and so save developers £4.5m.
The council could also remove obligations for the firm to provide contributions towards roads, schools and public art.
These form part of the Section 106 agreements but the coalition government has said these can be relaxed in order to facilitate the construction of new homes.
'Great tragedy'
Councillor Brenda Hugill, Labour, said: "I think it's a great tragedy and we are in desperate need for affordable homes, and I'm also disappointed that the developers feel they have to go down this road."
The Finzels Reach scheme is on the former Courage Brewery site alongside the Floating Harbour and between Castle Street and Victoria Street in the city centre.
Developers hoped the one million sq ft area would house 384 new apartments, offices, shops, restaurants and a micro-brewery.
The scheme was meant to be finished next year but now developers have said they will not be able to continue with the building work under the present circumstances.
Michael Baker, director of HDG Mansur, said: "The financial landscape has changed so significantly since we first agreed with Bristol City Council for the social housing.
"In particular the rising costs of raw materials has affected the overall buildings costs and the value of commercial and residential developments have fallen quite dramatically."
The Central Area Development Committee meeting will be held on Wednesday 26 October.