Vincent Tabak trial: Killer sorry for Jo Yeates parents' 'hell'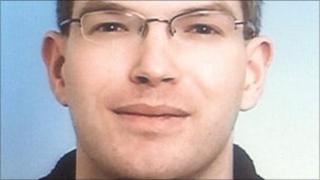 Dutch engineer Vincent Tabak has apologised for putting Jo Yeates's parents through "a week of hell" after strangling their daughter.
The 33-year-old told Bristol Crown Court that he was "so sorry" after killing her and leaving her body next to a roadside verge.
"I still can't believe I did that," he told the court.
Tabak has admitted Miss Yeates's manslaughter on 17 December last year but denies her murder.
"I was responsible for her death. I'm so sorry," he said.
Tabak told the jury about the sequence of events which led up to her death, and claimed Miss Yeates had made a "flirty comment" to him.
Tabak's partner, Tanja Morson, was away at a Christmas party that night while Miss Yeates's partner Greg Reardon was away in Sheffield.
He said he was invited into Miss Yeates's flat after waving at her when he walked past her kitchen window on his way to the supermarket.
'I was panicking'
Tabak said: "She invited me in. I took off my coat. I hung it on the coat rack in the hall. We both went into the kitchen."
While in the kitchen, Tabak claimed 25-year-old Miss Yeates made a remark about her cat, which he said had recently got into his flat.
Tabak told the court that Miss Yeates said: "The cat went into places where it shouldn't go. A bit like me."
He added: "I decided to make a pass at her... I got the impression she wanted to kiss me."
After the comment, Tabak leaned forward, put a hand on her back and tried to kiss her before she screamed and he placed his hand over her mouth.
"I was panicking. I wanted to stop her screaming. I wanted to calm her down," he said.
After strangling her for less than a minute "she went limp, she fell to the floor", Tabak said, adding: "I still can't understand what happened."
During cross examination Nigel Lickley QC put it to Tabak that he had wanted more from Miss Yeates on the night he killed her.
Tabak denied he wanted more than a kiss and added he did not think the kiss was a "sexual act".
Tabak said he had not formed an opinion on the landscape architect before 17 December but on the night he found her attractive.
He said he "liked her face, just how she looked".
Mr Lickley suggested to Tabak that Miss Yeates would have tried to get away from him but he denied this.
"That young woman was resisting you, Vincent Tabak," Mr Lickley asked. He replied: "Not that I can remember."
Mr Lickley asked if Miss Yeates looked frightened. Tabak replied that he did not remember.
The prosecutor asked: "All you had to do, Vincent Tabak, was walk out of the flat?"
Tabak replied, after a pause: "Yes... I didn't."
"There is no doubt you wanted to hurt her," the prosecutor said.
Tabak replied: "I didn't want to hurt her, I didn't want her to die and I didn't want to cause her any harm."
Mr Lickley said: "I am going to suggest that far from panicking, you were completely in control, in control of everything you were doing, particularly when you put your hand around her throat. That's right isn't it?"
Tabak replied: "No, that's not right."
Tabak told the court that he carried Miss Yeates's body back to his flat to put her in a bicycle cover before putting her in the boot of his car.
'State of panic'
He then went back into her flat and picked up a pizza which she had bought on the way home and a sock which had come off as he moved her body.
After this, he told the court he went to Asda in Bedminster, which he had originally planned to do before his encounter with Miss Yeates, with her body in the boot.
Tabak told the court that he was in a "state of panic".
The prosecutor showed Tabak footage of him walking around the supermarket buying crisps and beer: "That's you panicking is it, Mr Tabak?"
He replied: "Yes."
Tabak then drove to Longwood Lane, Failand, where he "did something horrendous" and left her body which was eventually found on Christmas Day.
In the following days, Tabak told the court that he began to drink more alcohol and was constantly checking news coverage of her disappearance expecting to be arrested.
"I should have called the police the minute she was dead. I still can't believe I was [capable] of such an act. It will haunt me."
Tabak also admitted to wrongly incriminating his landlord Christopher Jefferies by saying his car had moved on the night Miss Yeates went missing.
"I shouldn't have said that about Chris Jefferies," he told jurors.
The trial was adjourned until Friday when Tabak is expected to face further cross examination.