Vincent Tabak trial: Jo Yeates's mother weeps as photo shown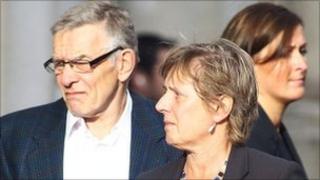 The mother of landscape architect Jo Yeates wept as a photograph of her daughter's body was shown to a jury.
As the image of 25-year-old Miss Yeates in a mortuary was shown to Bristol Crown Court, Teresa Yeates looked away and was comforted by her husband David.
Vincent Tabak, 33, admits Miss Yeates's manslaughter but denies murder.
Miss Yeates, originally from Ampfield, Hampshire, was strangled at her flat in Clifton, Bristol, on 17 December 2010. Her body was found on Christmas Day.
The court has been told she suffered 43 injuries before she was killed.
The photograph was among images shown to the jury on Friday, when Mr and Mrs Yeates were not in court.
On Tuesday, it was shown during the evidence of forensic scientist Tanya Nickson.
She had examined bloodstains found on a wall next to where Miss Yeates was found on Christmas morning in Failand, near Bristol.
'Confession' to chaplain
Ms Nickson said the blood pattern indicated smearing rather than splattering - meaning it was unlikely that Miss Yeates had been assaulted there.
She told the court: "The presence of the blood on the top of the wall may indicate that an attempt was made to deposit the body over the top of the wall."
Ms Lennen also examined DNA samples taken from Miss Yeates's body, her clothes and from the boot of Tabak's Renault Megane car.
Tests showed that both Miss Yeates's and Tabak's DNA were recovered from her body
The analysis of DNA recovered from the boot of Tabak's car showed a match to Miss Yeates and there was less than a one in one billion chance that it was not her blood.
Also giving evidence was Peter Brotherton, a voluntary chaplain at Long Lartin prison in Worcestershire.
He said Tabak told him on 8 February that he had something to tell him that would "shock" him.
Tabak confided in Mr Brotherton, who has been visiting prisoners for 25 years, when he was was being held in the prison's health unit.
Mr Brotherton said Tabak told him: "I'm going to change my plea to guilty," and added it was to do with a crime he had committed.
The chaplain told the court that he asked Tabak at the time: "Is this concerning the young lady in Bristol?," to which Tabak replied "yes".
Mr Brotherton went on to ask him: "Are you sorry for what you have done?" He told the court that Tabak again replied "yes".
"I advised him he must tell his defence solicitors," Mr Brotherton said.
He told the court that he thought Tabak wanted to tell him more "but I didn't want him to". Mr Brotherton then told a senior chaplain what had happened.
Mr Brotherton said he decided he could not keep the information secret because Tabak was not religious and the conversation was reported to a senior member of staff.
Some days later Mr Brotherton told Tabak he was sorry he had to disclose the information. Tabak told him: "Well I'm not going to tell you anything else," he said.
"I think there was a bit of anger in his voice."
During cross-examination, Tabak's QC William Clegg claimed Mr Brotherton's comments differed from a statement he gave on 16 February.
Mr Clegg said: "Let me suggest to you there was no suggestion of 'changing my plea'. 'I am going to plead guilty' - that's what he said.
"You said 'What for?'. And he said 'For the crime I have done'."
When the barrister suggested some of his evidence was incorrect, Mr Brotherton replied: "If that's what you say, I would agree with you."
'No comment'
After Tabak was arrested on 20 January, he was interviewed by detectives from Avon and Somerset Police.
He was first questioned by Det Con Richard Barnston at Trinity Road police station.
The court heard that each interview was under caution but Tabak largely exercised his right to give no comment.
He then gave police a prepared statement where he claimed that he did not know Jo Yeates and he had never spoken to her or her boyfriend Greg Reardon.
"Until her picture was shown prominently in the press I would not have recognised her," he told police.
In a second prepared statement he said he had "no knowledge" of how his DNA allegedly came to be found on Miss Yeates's body and clothing and disputed that it was his DNA.
In his statement, he then claimed evidence may have been leaked to the press from the laboratory for "financial gain".
In another interview, he repeatedly answered "no comment" to police questions including whether he had been invited to Miss Yeates' flat, and whether he had made sexual advances towards her.
The case was adjourned until Wednesday.