Knitting-covered boat to set sail from Bristol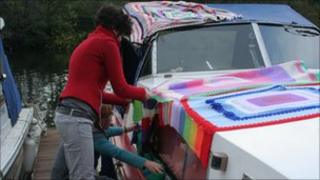 A 20ft boat covered in knitting is set to embark on its maiden voyage as part of a community arts project in Bristol.
The artwork incorporates a woollen anchor, seagulls and fish and has been knitted by 20 people who use the health charity the Milestones Trust.
Chief Executive Mel Akers said: "The people who we support get a real boost to their self-confidence when they see their work on show."
The boat will sail from Saltford to Bristol Harbourside on Friday morning.
'Quirky details'
The knitters have called themselves Knitiffi [knitted graffiti] and in keeping with the ethos of the group, each member has their own alias.
Member "Eddie Longstocking" said: "It does sound a bit mad but we're pulling it together really fast.
"The quirky details have to be bigger this time. People have knitted fish, seagulls and an anchor."
The boat covered in knitting has been done with the owner's permission and previously the knitters decorated a caravan in the same way as part of an arts event called Expressions.
The boat will be moored at Bristol Harbourside until 18 October.