Vincent Tabak: Neighbour remembers 'introverted' child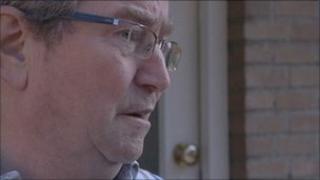 A former neighbour of the man who has been convicted of murdering Jo Yeates, has told how killer Vincent Tabak was an "introverted" loner as a child.
The 33-year-old Dutch engineer grew up in Uden, 21 miles (34km) north of Eindhoven in the south east of the Netherlands.
The town of 40,000 residents in the North Brabant province has grown significantly from its village roots during the past 60 years and is now considered a regional centre.
John Massoeurs, who lived next door to the Tabak family, said Tabak was a "latecomer" and his parents were older than average.
Little is known about his mother and father - but Mr Massoeurs said Tabak's father died about 10 years ago.
Tabak was born in 1978 and was the youngest child. He had few friends when he was young, his former neighbour said.
"He didn't play with children in the neighbourhood. He was very on his own," Mr Massoeurs said.
Quiet but clever
"I think perhaps he was a little lonesome so therefore I say he was introverted."
But despite Tabak's quiet demeanour, Mr Massoeurs said the boy who would grow up to become an engineer was "clever".
From 1996, he attended the technical university in Eindhoven and gained a masters in architecture, building, and planning.
He then gained a PhD after researching how people move around in office buildings.
"He was very intelligent," said Mr Massoeurs.
After graduating, Tabak moved to the UK. Mr Massoeurs said Tabak's move from his native Holland had not come as a surprise to him.
"He made his own plan and where he wanted to be, he went to. The neighbourhood here hadn't interested him."
Tabak worked for Buro Happold in Bath and moved into a Clifton garden flat with his girlfriend Tanja Morson.
According to friend Sarah Maddock, speaking during Tabak's trial, the pair were planning a future together.
She told Bristol Crown Court they wanted to get married and have children.
In the autumn of 2010, new neighbours - Jo Yeates and Greg Reardon - moved in next door to Tabak and Miss Morson.
Although they lived next to each other for several months, Tabak and Miss Yeates did not meet until 17 December.
It was then he strangled his neighbour at 44 Canynge Road and left her body next to a roadside verge.
Mr Massoeurs said he was shocked when news of the murder reached the Netherlands - and by Tabak's admission that he killed her.
"I was really surprised because I thought Vincent isn't able to do that. I couldn't believe it," he said.